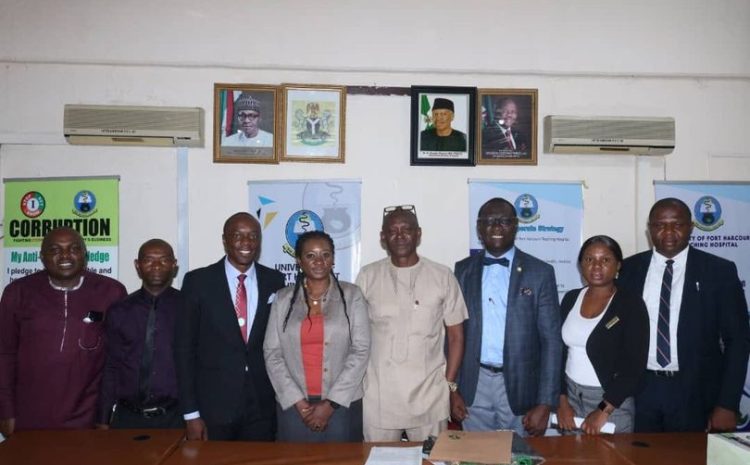 The Hospital Management Committee (HMC) led by the Chief Medical Director, University of Port Harcourt Teaching Hospital, Prof Henry A. A. Ugboma recently played host to executive members of the Rivers state chapter of the Nigerian Medical Association (NMA), who paid a courtesy visit to the CMD and management.
NMA state executive led by the state chairman, Dr. Ebbi Robinson, in his remarks, appreciated the leadership strides of Prof. Ugboma and acknowledged that members of his association have so far enjoyed better welfare under the CMD's administration. The chairman also recalled the strength of leadership professor Ugboma has shown in the past from his leadership of ARD and NMA in the state and now as the Chief Medical Director of UPTH.
Dr Ebbi used the visit to intimate the CMD of the projects/plans of the association, which includes, its corporate social responsibility (health outreaches), a Lifestyle centre for the state, and the annual general meeting for which the executive solicits support.
Other concern as it bothers on members' welfare and her check-off dues were raised, for which the CMD gave satisfactory clarification.
High point of the visit was the decoration of the CMD with the conference material as a formal invitation to the association's forthcoming Annual General Meeting and Scientific Conference.
scheduled for June 2023.
Members of the state executive were accompanied by the immediate past chairman, Prof. Chiziudu Alikor, UPTH MDCAN, ARD chairmen, Dr. Iroro Yarhere and Dr. Onuah I. Arthur respectively.