The 6 days program commenced on Monday 4th September running through the 8th of September, 2023. The welcome address and ground rules were given by Dr. Fidelis Okoebor.
Speaking on taking good care of elderly persons, Dr. Fidelis Okoebor mentioned the importance of administering medications at the right time as giving elderly people medication later than the prescribed time can be considered risky, He also stated that caregivers should avoid elder abuse and being rude to elderly persons because they may appear to be too slow at such, they shouldn't be taken advantage of financially because some are too old and weak.
For the sake of elderly persons, the speaker said organizations should provide ramps for wheelchairs not just stairs and elevators.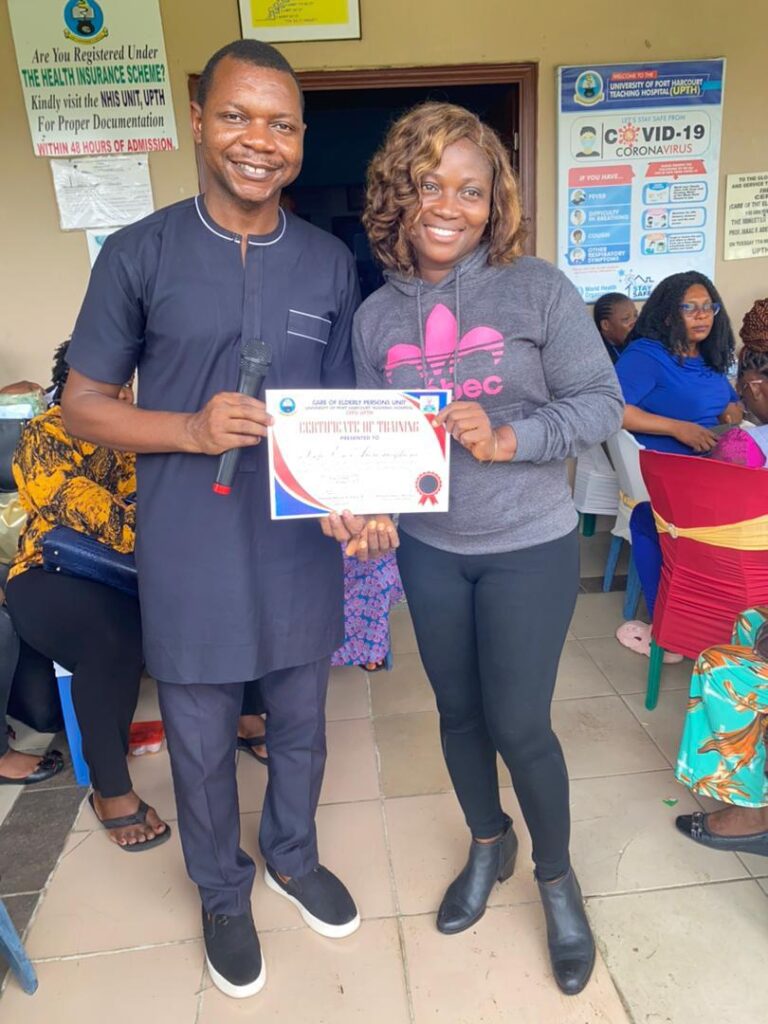 Speaking further on challenges faced by Geriatrics Caregivers, Dr. Fidelis Okoebor made mention of the following challenges: Dementia, Depression, incontinence, Orthostatic hypotension, Falls & dizziness, Poly pharmacy, Arthritis and Frailty.
Speaking on the basics of Geriatrics, Health assistants (HCAs) & Geriatric care assistants (GCAs) was Prof. Hope Bell-Gam who also lectured on the principles of care giving.
Delivering a lecture on Clients Feeding Techniques Matron Ashimole Charlotte introduced the Nasogastric Tube which is inserted through the nose into the stomach and requires 24 hour's supervision. She also stressed appropriate clothing and dressing of clients. She also spoke on pressure ulcers and the importance of record keeping.
Rounding up the day's activities was the practical aspect supervised by Matron Charlotte Ashimole, the practicals
included patient handling and transfers, how to manoeuvre hospital beds, dressing aids and use of water beds.
Treated topics during the rest of the program includes ENT (Ear, Nose & Throat) Challenges in older persons, Dental Challenges, Safety in the Bathroom, Chronic joint pains, Causes and management of acute confusion in older persons, Stroke prevention, Legal Aspects of Geriartric Care, Use of walking aids, Commonly Nutrition Problems, Managing Agressive Wandering in Older persons and Managing Incontinence in older persons.
Rounding up the program on the 9th of September was the Exam practicals, participants' award of excellence and issuing of certificates, addressing the participants Dr. Fidelis Okoebor commended the participants for their discipline, dedication and efforts during the program. Claiming the participants' award of excellence were Okeke Mary Jane Nnenna (Gold Medalist), Tawu Pepple (Silver Medalist) and Isogie Austin (Bronze Medalist), after the awards a total of 63 participants were issued Certificates.